Dear Travellers!
Our business and web site is for all people who love travelling on wheels and searching for best services and products to suit their needs. Our focus and work is dedicated to RV's such as campervans, build-in motorhomes and C class motorhomes.
         Our services and features:
"VAN OF THE MONTH"  check out our latest custom build RV
specialist from VW Caddy, Hiace to Sprinter sized vans
full, part and removable conversions
repair, improvements and insurance work

Pop Top and Hitop roof conversions supply and fit

authorized & official REIMO parts dealer Australia
SHOP with special products e.g. rear tents, driver cain louvre air vents, sun and fly screens. adjustable table legs & other DIY products

Upgrades: Diesel hot water/heater, solar systems, battery management
curtain sewing service, special foam mattresses, fabric covers & upholstery service
engineer and modification plates for seat, roof and LH11
LPG and 240V certificates

find floor plans and check list for your planned RV conversion here
We offer solutions to fit everyone's budget- from small extra ad ons to complete jobs - feel free to contact us.
Your Southern Spirit Campervan Team
Our latest design is the all new Campino Camper- a versitale camper which you can make your own by customization. Built to high standards. the Campino is a great value for money.
2016 Toyota Hiaces are from now on available from us- either as Campino Campers, but also for real one - off custom builds. Contact us to get best Drive Away price today.
Visit our new created website  www.campinocamper.com today.
For all people interested into a compact camper on a very well set price, starting Drive Away from $61.990.
Call us today or explore the Campino Homepage- you can check prices with a real-time calculator or download the specification list.
 WE ASK YOU!
What is really the BEST base vehicle to become  a campervan and motorhome in Australia. As we are manufacturer of the well reviewed and successful Campino Campervan- we now planning to build another prototype and we want to hear from you what you have to say about the best camper. Therefore we have set up a short survey for you.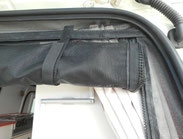 It's time to beat the bugs!

Keep all insect's outside your camper with our affordable fly screens. Available for most vans from $199. Sliding & rear door in 2 or 3 zipper variations. Easy for DIY installation!