Mini Car Camper Fiat Doblo everything on board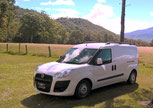 Do you really want a ultra compact and practical every day runner, PLUS you want to use it for camping trips?!
Then the Fiat Doblo might be a perfect choice.
This bespoken conversion had in mind that we creating as much storage as possible and also including some comfort.
The van ceiling was complete lined with think insulation and together with the 12V fan, lights with blue night-light feature and the fly screens the "bed on wheels" offers a lot of comfort for 2 people to stay. Under the bed are everywhere storage compartments including a very large pull out drawer, a LPG bottle safe storage bin, house battery and a 30 litre drawer fridge, sideboards and Stow'n'Go window panel bags.
This is NOT just a fit-out to go for a long weekend or festival- with .a Gazebo and tarp awning you can enjoy for weeks your outdoor adventure.
Mini Car Camper VW Caddy - Back to Basic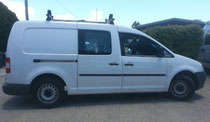 Heard about car camping? Perfect dual usable cars are the Holden Combo or the VW Caddy!
Handy during the week being a small car and using it for the weekend as a basic camper- that was our target on this mini conversion.
The conversion is a modular system and the bed extension can be slipped away under the main bed. Fridge cupboard and seating box can be both easy removed when loading and transport space is requested.
Under the main bed is a slide out mini kitchen with a 20l water tank, a manual tap, storage and bench space for outside cooking.
The small table inside can be fold up and will not take much space.
This layout  and furniture kit was also focused on budget- so we kept everything simple in this layout and could surprise the happy owner to walk away with a camping car conversion on a $3,500 mark.
Reimo Caddy Car Camper de Luxe
This smart layout can be ordered in a package deal- also the roof is available on his own. Reimo did win the Runner up award in the UK with this compact concept. Great for young families as well as single casual travellers.

The "de Luxe" version if you want a 5 seater car VW Caddy- as well as I nice little campervan as getaway. This mini camper sleeps 3 people!! The video shows the "german" version but it certainly set up perfectly well on the right hand drive vehicle....

Please contact us if you request pricing and further informations.