Download the floor plan from your van: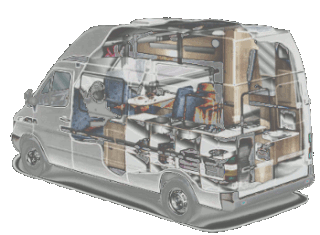 You may consider about some of relevant factors:
How many people has the conversion to carry?
How many weeks or months (each year) you want to travel?
Do I need standing height inside the vehicle?
Do I prefer a permanent bed and/or separte convertible benches?
Do I need toilet and/or shower at all?
Do i want to cook inside and/or outside?
Do I have particular special needs?
How much money I would like to spend?
I am the adventurous or comfort lover or practical focused or Backpacker style typ of traveller?
Feel free to download one of the floor plans. Print them out and make a few rough drawings.  How would you  like your campervan layout should look like?
Ford Transit 1990 -1999
Commercial van Ford Transit. This floor plan is for the low and mid roof based modell build from 1990-1999
Ford Transit Draufsicht.pdf
Adobe Acrobat Document
30.5 KB
Mercedes Sprinter 413 and 416
Floor plan for the big commercial van. The Mercedes Sprinter LWB version, modell 413 and 416 (CDI).
Sprinter_413_416_floor.jpg
Hiace specs from mid 1980ties
Toyota Hiace size dimensions from the early to mid 80 ties model
Hiace-spec.pdf
Adobe Acrobat Document
170.4 KB
VW Transport T4
Specification sheet of size and measurements for LWB and SWB Volkswagen Transports from 1992 to 2002
Fiat Ducato LWB
Fiat Ducato Transporter floor plan with dimensions for high roof model- sold in AU from 2000 to 2007.
Ducato-LWB.pdf
Adobe Acrobat Document
79.3 KB
Renault Trafic post 2014 LWB
Post 07/2014 Renault Trafic long wheel base floor plan , internal cargo area lenghts is 2973mm.
Renault-Trafic0floor-to print.pdf
Adobe Acrobat Document
218.0 KB
What do I need in my future camper?
We created a little questionarie to see what kind of traveller you are and to get a clearer view what YOU like and what you realy need on your trip(s). Have a look and you might surprise yourself.
Questionarie for a future camper conversion
questionarie.pdf
Adobe Acrobat Document
157.0 KB