Poptop and Hitop roof conversions
Toyota Hiace 2004-2015 LWB Hitop conversion

Toyota Hiace 2004-2015 LWB POPTOP conversion
Volkswagen Transporter T5 2004-2015 LWB Euro Top conversion
 New Volkswagen Transporter T5/ T6 reverse tilted roof see here
Hyundai Iload super slim line  Euro Top conversion see here
NEW  2015 Renault Trafic SWB super slim Euroline Top conversion
NEW 2015 Renault Trafic LWB super slim Euroline Top conversion
NEW 2015 Mercedes Vito LWB super slim Euroline Top conversion
NEW 2016 Volkswagen T6 various types see here
NEW Volkswagen T5/T6 small pop up roof see here
NEW Volkswagen Caddy LWB roof conversion see here
We offer roof conversions for a number of different vans.
Not only for the DIY interior conversion builder- we also fit roofs for all type of purposes where standing height is requested, such trade vehicles, food vans, doggie wash mobil businesses and others.
All roof conversion will be carried out in our workshop in Brisbane without exception. We can not freight roofs, because the installation of a roof will request qualified trades people to carry them out and it is not safe to be done by private builders, business who are interested to become approved Reimo roof fitters, please contact us.
Roof features:
high quality, gel coated fibreglass roofs with 12 months manufacturer warranty
rip stop or Weathermax skirt on Euro tops and poptops
windows with zips and fly screens/ hopper or sliding window
permanent ventilation
reinforced area to fit awning brackets (direct or retro fit) OR
for VW awning and tent bracket MULTI RAIL to suit slim line roof conversions (at additional cost)
Engineer & QLD mod plates / certificate (NSW, Victoria etc.) available
Other van roof conversions e.g.  old style Renault Traffic, Ford Transit, Mercedes Sprinter, Mercedes Vito, Hiace Commuter, Volkswagen Transporter T4, Transporter T5 SWB, Volkswagen T3 on request.
*** super slim line design UNDER 2 meters when down, designed and made in Germany by Reimo- features 3 zipped windows w/h extra fly screens in Ripstop skirt, front standing height when open 2.15m / back standing height 1.75m. Super easy lifting gas struts and sturdy brackets TUEV approved, internal grey padded hood lining and insulation prefitted
* features a permanent standing height inside of 2.05m and comes with a hopper window on the driver side w/h fly screen, reinforced strip for curtain track, reinforced area for ceiling light and one top ventilation roof mushroom vent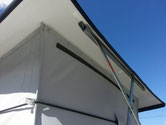 ** comes with Weathermax skirt, 2 windows as standard, permanent ventilation,reinforced awning bracket support, reinforced area for 2 lights

**** The new 2015 roofs coming with a finished insulated ceiling and skirt with 3 windows, 2 of them with fly screens.

Height of Renault Trafic 2.07 meters

Height of Mercedes Vito only 1.97 meters.

Made in Germany to highest safety standards and TUEV approved.

Prices include supply and fit but exclude modifiactions plates as prices vary AU wide.

available extra's at additional cost
third window in pop top
insulation and internal ceiling for pop top
top bed for up to 2 people
second window for Hitop
solar panel installation on roof
internal trimming
installation of ceiling lights
Fiamma F35 and F45 awning including brackets and installation
 colour matched roof (solid or metallic colour)
Please contact us for pricing under 0401 797179 on above features or use our online contact form.