Mini camper Deluxe
Compact car AND campervan... is that possible?!
Yes, with the roof conversion for for the VW Caddy Maxi ( LWB)  you can use your Caddy as a 5 seater people mover as well as a mini camper.
The roof conversion not only gives you standing height inside, also a extra upper bed can be fit at additional cost.
With the Reimo roof conversion, your economical and handy Caddy still coming with a total height of less then 2 meters and makes it easy to park in undercover garages.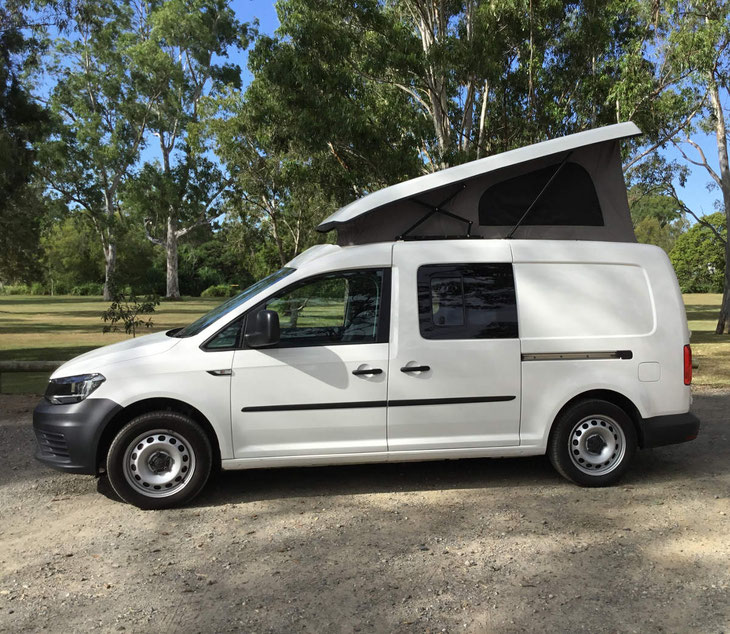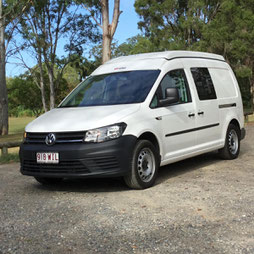 Caddy Maxi Van and people mover LWB
smallest campervan with elevated roof on the AU market
sleek design. aerodynamic spoiler
super easy to operate the roof up and down, thanks to gast strut system
super low, fits in (near) all undercover car parks and garages- as its well below 2 meters
base vehicle is available as 2 or 5 sater as 2WD and 4Motion version to get off the beaten tracks.
upper bed optional
colour matching for roof available at additional cost
2x mossie net and one clear front window- watch interior Inside tour video here
order & secure your roof now - 4 months waiting list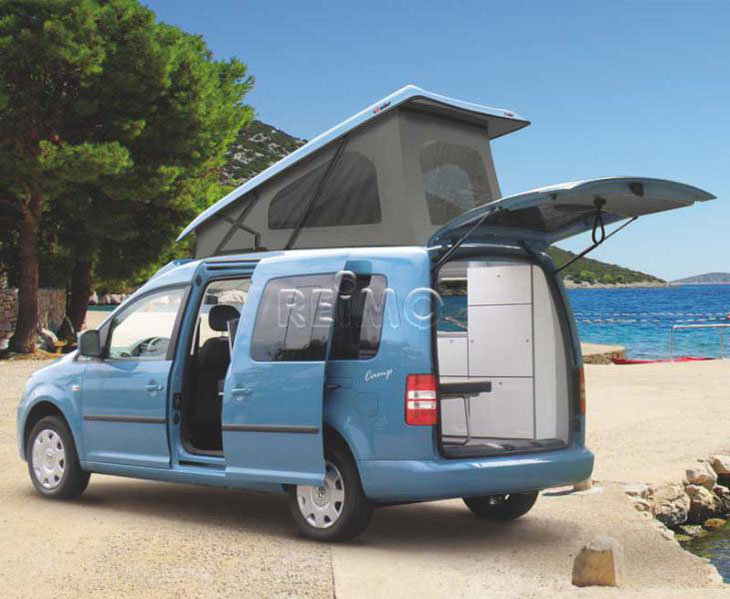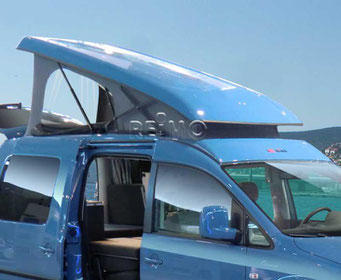 The elevated roof converts your Caddy into a real Mini Camper!!! Walking around, standing height inside when prepairing meals is just as easy as to lift up the roof. A optional upper bed in the roof can sleep another 2 people.
The gas struts operated roof is easy to open and close, while the front spoiler gives the roof a stylish and aerodynamic finish.
VW Caddy LWB 2004-2014
VW Caddy LWB 2015 onwards
Roof conversion including supply and fit from                $ 7,515*
optional upper bed supply and fit                                   $    995
* roof compliances and engineer certificates/ mod plates are available for QLD, SA, Victoria and NSW registered vehicles at extra cost- please ask for the specific cost for your state.