mobile camping - removable campervan conversion
Latest news: The Caddy Camper Maxi with elevated roof from Reimo can be fitted with a either Reimo furnitures and/or a Southern Spirit customized furniture set. We can fit out Caddy van commercial as well as the people movers such as Tredline and Confortline- but it must be for this layout the LWB version.
Ideal for solo travellers, who still like a every day runner with up to 5 seats to carry family and friends during the week and turns into a active lifestyle and camping wonder in no time.
Prices starting from $7.850
Becoming more and more popular in the last couple of years- a significant amount of people mover and small van owners demanding a solution to use their every day vehicle additional as a weekend camper, bed on wheels to visit festival and outdoor activities or to escape for a smaller trip- without the need, space or budget by having a separte RV leisure vehicle.
Option A.)
Bed moduls which can be easy set up / unfold to full bed size are handy. Especially when you have a row of passenger seats in the "cargo" or rear passenger area and you would like to keep them. The bed will extend then over the seats (seats only needed to be fold down).
Cabinet moduls can be fit under the rear part of the bed modul and you can use them when your tailgate door is open.  There are several kitchen or stoarge cabinets to choose from. The cabinets can come with drawer and/or space for a 12V fridge and small water tanks.
Available for vehicles such as Toyota Town Ace and other people mover, Nissan Elgrand, VW Caddy Crew van, VW Multivan, Nissan Nomad, Mitsubishi Delica and many more.
The moduls can be complete removed in within a few minutes and also can be purchaed from us and being freight Australia wide for some vehicle models.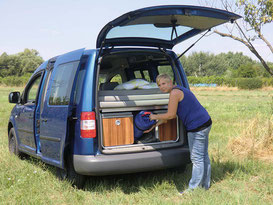 Option B.)
For owners of Renault Kangoos, Holden Combo or the LWB and SWB VW Caddy- we can offer removable  campings kits.
The conversion is quickly done and can be stored in your garage/ shed when not in use. You can opt for a bed convesion only, or completeing the kit with the "kitchen: drawer and the srorage/ seat box.
Prices starting from $2.690
Option C.)
Some more furnitures are involved in The Caddy Camp Max (as also some furnitures on the driver side will stay/ are permanent installed. Overall its a one step up further conversion towards a campervan, but it certainly still keeps the Caddy as a every day runner for up to  5 passengers. The interior can be used in conjunction with the elevated roof or on its own and some moduls can be added on separate (such as passenger side seating/ storage box).
Conversion can be self installed or we can  install in or work shop.
Prices starting from $9.000
Option D.)
SSC Custom build mini conversion which can be taking out with relatively little effort. Good samples are here for a VW Caddy and the famous, full removable Camper conversion for a Fiat Ducato MWB or SWB